Customer-Centric Design for Financial Success: Financial Opportunity Center
We at NeighborWorks Umpqua are partnering with the Rural Local Initiatives Support Corporation (LISC), the nation's largest community development organization, to create a rural Financial Opportunity Center (FOC). This new center provides a relationship-based coaching model that will help low-income families improve their financial well-being. Three core services – financial education and coaching, income supports, and employment services – will provide the resources to financially empower underserved rural Oregonians and small businesses.
Not only does this model focus on relationship-building with our customers, but it also requires enhanced collaboration with our partners. Our newly formed Community & Economic Empowerment department will provide customer-centric services directed by Michelle Martin. Services include financial education and coaching, mortgage and home purchase counseling, tax preparation assistance, career exploration and planning, and savings programs such as Dream$avers.
When a customer comes into the Financial Opportunity Center, we will ensure that they are accessing any benefits for which their household is eligible and given a chance to explore career opportunities. In the past, we often received phone calls for assistance with services that we did not offer, and customers were simply referred to other agencies. This might help in the moment but doesn't address the issues causing the need for assistance in the first place. This integrated service delivery method and customer-centric focus create a unique space for growth and development tailored to each customer and their coach. It allows us to address the immediate needs, such as rental assistance or help with catching up on utility bills, and then focus on the reasons why those struggles are happening and create pathways to address those issues.
"Folks coming in the door often feel like they are not in charge, or they don't have the power or tools to change their outcomes. Our FOC coaches will be there with a whole toolbox ready to give each customer exactly what they need in order for them to realize they do have the power and resources to be successful.  For some, just having someone believe in them is more than they have ever experienced in their lifetime; being there in that moment, seeing that happen is what it is all about." – Michelle Martin
Even before the COVID-19 pandemic, the need for social services had increased throughout Douglas, Coos and Curry Counties. This economic distress was documented as a 5.52% average unemployment rate in the region in the 24-months before COVID-19. This is much higher than the average U.S. unemployment rate of 3.66% during the same time. Also, personal income in our region is 77% of the average U.S. personal income. As we continue to contend with current economic challenges, the virus, and the additional negative impacts that may result, our team at NeighborWorks Umpqua are driven to begin the work towards economic recovery.
Coaches have already started working within the new FOC model, developing meaningful connections with customers and with partner agencies who are also working on COVID-19 recovery efforts. For example, our Census Equity Fund and our Volunteer Income Tax Assistance (VITA) programs both provide outreach to underserved communities and low-income residents to encourage participation in the census and to provide free tax preparation. Our Volunteer Coordinator, Becky, is now partnering with the Salvation Army in Roseburg to provide these services at their location during food bank distribution hours. As clients pick up food boxes, she asks if they have received their economic impact payment, taken the census, or need help with tax preparation. At our coastal site, Dan McAvoy, our VITA site coordinator, is doing similar work with The Devereaux Center. According to the center's Executive Director, this partnership has helped about 1% of the total population so far.
"Sometimes life keeps handing you lemons, but we are going to provide the recipe and show them how to make their own lemonade." – Michelle Martin
Many families have experienced misfortune at some point in their lifetime and fear contacting the IRS. This fear can prevent families from receiving payments or other benefits that are due to them. Through just one connection and coaching at the Financial Opportunity Center, individuals and their households can get the help they need. For example, one customer who arrived at the Salvation Army to pick up a food box needed help to complete the census. That person's disabled brother, who drove her to pick up the food box, did not receive an Economic Impact Payment (stimulus check). Becky followed up and was able to help both individuals obtain the resources they needed.  Our VITA and Census programs will also be partnering with United Community Action Network (UCAN) for the first time through their Portable Food Bank. This will allow additional outreach and engagement with customers who are "hard-to-count" in rural areas of Douglas County. 
Partnering with other organizations is part of the Integrated Service Delivery element of a Financial Opportunity Center. There are now more than 100 FOCs across the country in both urban and rural communities. The success of the FOCs is evidence-based, with data showing excellent results in helping clients get a job, keep the job for longer, and build more substantial household savings.
We are excited and confident that the relationship-based coaching model will help build self-sufficiency and impact the rebuilding of our local economy.  We are grateful to be working alongside Rural Local Initiatives Support Corporation (LISC) to help start our Financial Opportunity Center.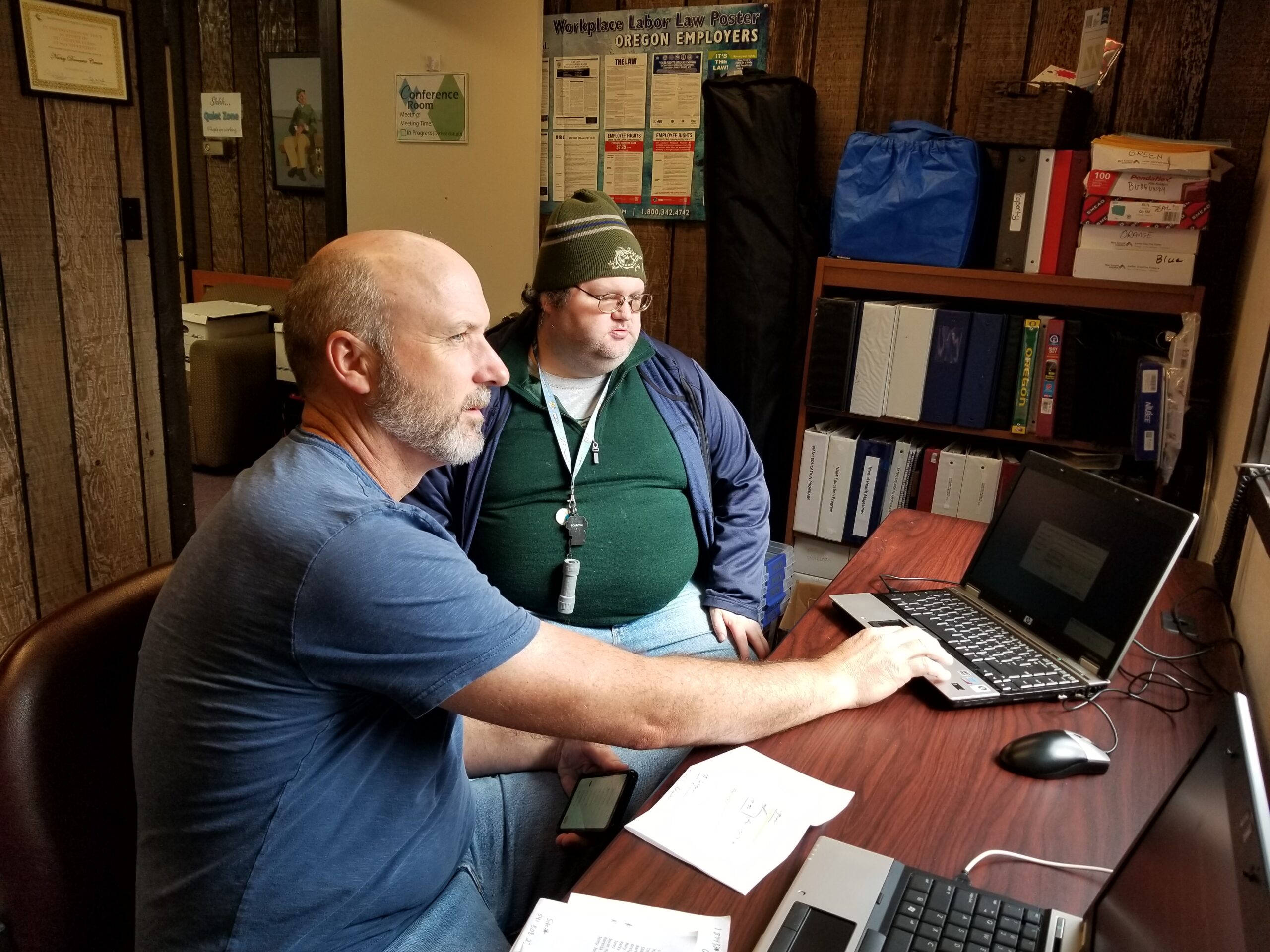 Dan MacAvoy assists an unhoused man with submitting taxes so he can submit to receive a stimulus check.